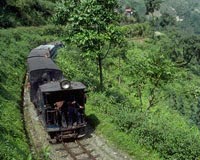 A hill resort in the state of Uttarakhand, Mussoorie cozily rests atop the Garhwal hills, at a lofty height of 2,500 meters. With its alluring landscape and invigorating mountain air, the hill resort is a very popular tourist recluse of North India. Its close proximity to the city of Dehradun makes it ideal for short-term weekend getaways as well. Thus, Mussoorie sees a lot of tourist traffic every year. Especially during the summers, the tourists from nearby plains like traveling to Mussoorie, to ease their nerves from the city drudgery. Read on further to get complete information on how to reach Mussoorie.
By Air
The nearest airport to reach Mussoorie is the Jolly Grant Airport, located 24 km from Dehradun. Daily flights (Indian Airlines and Air Deccan) from this airport connect Mussoorie to Delhi. You can easily board a bus/ taxi/ private car from the airport to reach Mussoorie.
By Rail
The nearest railhead is located in Dehradun, 34 km from Mussoorie. It connects Dehradun to important cities like Delhi, Bombay, Amritsar, Varanasi and Lucknow. Shatabdi Express is the most convenient option, if you plan your trip from Delhi to Dehradun by train.
By Road
Well maintained and motorable roads connect Mussoorie to all the major cities nearby. Delhi is 269 km from Mussoorie, and one can easily drive via Meerut, Roorkie, Chuttmalpur, and Dehradun to reach Mussoorie from Delhi. Various buses of "Uttaranchal State Transport" shuttle between Delhi and Mussoorie.