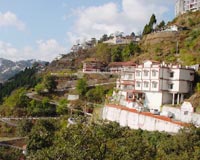 Encompassed by the majesty of the Himalayas, the hill resort of Mussoorie is an ideal vacationing idyll in Uttarakhand. Located 34 km from the city of Dehradun, it offers some of nature's best treats. Discovered by an Englishman named Captain Young, in 1820, Mussoorie has been named after the 'Mansur Shrub' that grows here in abundance. The place has been a favorite summer hideaway from the days of the British. Earlier an exclusive British respite, it today offers myriad delights to anyone who winds up to its welcoming bosom. As you ascent up the pine-scented circuitous streets with playful thoughts in your mind, you will be completely awed by the landscape Mussoorie unravels.
With streets girdled by pines and rhododendrons, you can glimpse the rolling snow-capped Himalayan peaks smiling at you. As you witness their ice cream noses and savor lungful of mountain air, you will be completely bewildered by the deep ravines and green valleys below. The breeze and the twittering birds collectively sing a symphony otherwise unheard. You can also spot mischievous monkeys by the roadside throughout the mountain ride. Some of them sit stoically and gives the impression of curved milestones that are randomly placed to highlight the mountain dream you are going to live.
Mussoorie seems like an immaculate work of art, carefully painted by some deft fingers. The whole town is encircled by black iron balustrades/ railings that make it look like a protective domain. The streets are carefully studded with black ornamental light posts and viewpoints that give the place a Victorian touch. As you sit on one of the carefully laid benches and relish the views, you can see the valleys below flicker with distant lights during the night. They look like numerous glowworms enjoying a mini-carnival. You can simply sit and watch this resplendence, as you start to believe that time really flies.
You can indulge in some gustatory delights with authentic Tibetan and Thai cuisine in any of the quaint food joints in Mussoorie or while away your time in a posh bar. The only things that you leave behind in your city-home are cacophony, worries and the enervating city atmosphere. Your metropolitan luxuries remain intact during your vacation in Mussoorie. Don't forget to check out some of the most exotic ornaments (Tibetan, Nepali, Naga, et al), handicrafts and curios at its colorful shops. Visit Mussoorie once and experience the magical charm that will make you visit it again and again. And yes, once back from your vacation, nursing the nostalgic hangover is solely your pleasure.